MESSAGE FROM LEADERSHIP
Like the world outside our doors, our world began to feel more "normal" than it had during the previous two years. The individuals and staff created new memories from trips to the Cleveland Guardians games to the Great Lakes Science Center to regular picnics at Coe Lake in Berea and attending the Cleveland Metroparks Zoo during the summer and for "Wild Winter Lights" during the winter.
Throughout this report, you'll find pictures and stories of individuals and staff enjoying these experiences and other person-centered activities, thanks to the dedication of our staff – house managers, QIDPs, Activities Coordinators, LPNs, DSPs, cooks, and others.
Below are just a few highlights from 2022:
Revealing our strategic plan that focuses on three pillars: People, Access, and Growth. Read on for more details about our plans for the future.
Recognizing our incredible staff members at our in-person Employee Recognition Event in April 2022. We honored three staff members with recognition awards and celebrated milestone anniversaries, including 25 years for one of our Direct Support Professionals, Christine Curran.
Your generous support helped us raise money to support our programs and services so that we can carry out our strategic plan and expand our services. You – our supporters – helped us reach our fundraising goals at the 11th Annual Golf Outing, through the end-of-year appeal, and through grants.
2022 was not without challenges. We still had to mange COVID carefully, which impacted staff and the individuals. Staffing shortages continue to affect our industry, which impacts everything from the staff burnout to being able to plan meaningful outings and events. Additionally, increased costs due to inflation delayed the completion of our Therapeutic Greenhouse & Activity Center.
Finally, we were sad to end the year with the death of our friend and longtime board member, Ralph Zuponcic. He died peacefully on December 27, 2022, surrounded by family. Ralph and his brother Steve Zuponcic were instrumental in securing the location for our Intermediate Care Facility (ICF) group homes in North Royalton on Abbey Road in 2010. For many years, as a board member, Ralph also helped oversee Blossom Hill's Development and Marketing efforts. All of us at Blossom Hill continue to keep the Zuponcic family in our thoughts and prayers.
Read on to learn more about our journey through 2022.
Lisa Kristosik, RN, BSN
Chief Executive Officer, Blossom Hill
George Swartz
2022 President, Blossom Hill, Inc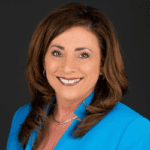 Lisa Kristosik, RN, MSN
Chief Executive Officer, Blossom Hill, Inc.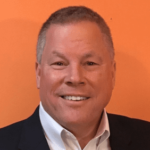 George Swartz
President, Blossom Hill Inc. Board 2022
 BLOSSOM HILL BOARD OF DIRECTORS
Officers
George Swartz, President, Blossom Hill, Inc.
Chris Holeck, Vice President Blossom Hill, Inc. & Blossom Hill Foundation
Chuck Hirsch, Treasurer Blossom Hill, Inc. & Blossom Hill Foundation
Dennis Kapral, Secretary, Blossom Hill, Inc. & Blossom Hill Foundation
Ralph Zuponcic, Past President, Blossom Hill Foundation
Marty Gardner, Interim President, Blossom Hill Foundation
Directors
Steve Zuponcic
Ethan McPeake
Tammy Haseley
Sal Indriolo
Blossom Hill Plan for Sustainability
Our Mission: We enhance the daily lives of disabled adults and their families through loving, personalized care.
Strategy #1: Significant Investment in Our Staff
Our business is loving, personalized care.
Consistent and caring staff are the most important indicator of success in the DD/IDD industry.
Adequate staffing is the biggest issue we face today.
Investment in engagement, incentives, and employee recognition are all factors towards becoming a great place to work.
Strategy #2: Expanding access to services that we already offer
We provide essential services to those who need it the most.
There is a significant need among family members and the DD community for respite and supported living services.
We have been a leader in these services for many years.
Blossom Hill can also offer a natural bridge to ICF and group waiver in the future
Strategy #3: Exploring New Services
Innovation and growth are the keys to our success.
Blossom Hill has been around for nearly 55 years because of the organization's willingness to grow and innovate.
Day programming services that we can offer to our individuals goes back directly to our mission: enhancing the daily lives of the people we serve.
Grants
In 2023, we continued to foster great relationships with our generous grantors, totaling nearly $100,000. This funding helps support specific projects like the Greenhouse & Activity Center and also included general operating expenses that are unrestricted funds. See below for a full list of our generous grant partners.
In 2022, we were grateful to celebrate in-person fundraising events, including a Charity of the Month happy hour at Sibling Revelry in Westlake and our Annual Golf Outing in June at Shale Creek Golf Club in Medina.
Generous Donations
We are so grateful to our generous donors who continue to support us. At the end of 2022, our donors continued to give despite rising costs and inflation. In fact, we surpased our goals for our Annual Appeal campaign.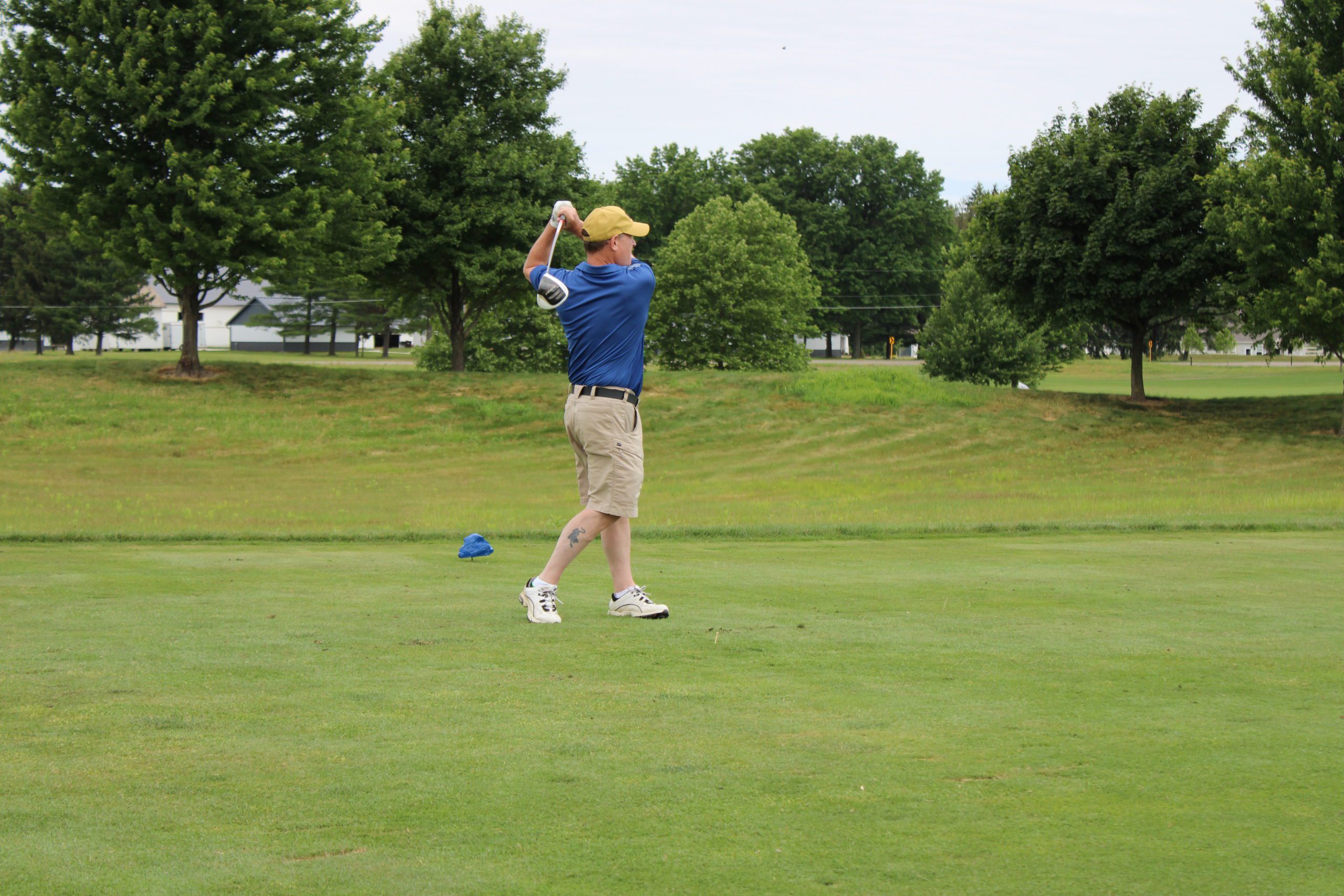 The weather held out for a perfect day of golfing at Shale Creek Golf Club in Medina to celebrate Blossom Hill's 11th Annual Golf Outing. Read more.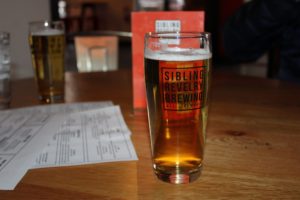 Sibling Revelry Brewery selected Blossom Hill as it's "Charity of the Month" during the month of February in 2022. For every lager that was sold, a portion of those proceeds will benefit Blossom Hill. Read more here.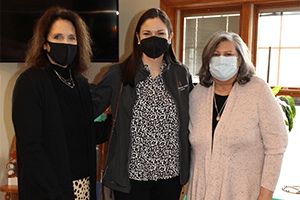 Community West Foundation Judges Art Contest
We were honored to host staff members from our grant partners at Community West Foundation to help us select the winners of our Annual Blossom Hill Art Contest! They selected four amazing winners and three honorable mentions. Find all of the submissions here.
2022 Grantors
Michael Talty and Helen Talty Charitable Trust
The Enterline Foundation
CWF JT Bond Fund
Thatcher Foundation
Community West Foundation
Community West Foundation
PNC Charitable Trusts
Higley Foundation
The Louise H. and David S. Ingalls Foundation
Cleveland Foundation
Community Fund Ohio
2022 Individual Donors
Phil and Linda Abel
Larry Antoskiewicz
Timothy Araps
Ralph Berge
Kathy Bill
William Blackie
Barbara Blackie
William and Kathleen Blake
John Blatt
Jeff Bohmer
David and Lynne Bohmer
Richard Bohmer
George and Pat Bohnert
Dan and Diane Brezovec
Matthew Brigeman
David Brindza
Susan Brown
Michael Bush
Ruth Clingan
Toni Coleman
Dave Coleman
Connected HR
Katie Cooke
Harry Cool
Dave and Melanie Czerniak
David and Teresa Czerniak ll
Mark D'Agostino
Stephanie Dadas
Linda and Phil Dalton
Jeff Denker
Rollie Denker
Jeff Denker
Mary Ellen Dugan
Kathy Dugan
Mike Essenmacher
Amy T. Ferree
Paul Floriano
William Flower
Nancy Foster
Chuck Hirsch and Michelle Fox
Jim Franklin
Jeannette Fulton
Jerry Galaska
Halle Garbinski
Gary Garbinski
Fred and Judie Garbinski
Marty and Barb Gardner
Laurie Gatten
Beatrice Glinska
Frances Floriano Goins
Steve Golden
Jacque Gonzalez
Adrienne Gonzalez
Lauren Gottschalk
Michael Graff
Skipper Graham
GeorgetaGrama
Nick Gramp
Mike Grubar
Brad Hain
Carol Hall
Leslie Hammer
Gregory Hammer
Leslie Hammer
Eric Hammer
Jennifer Hantel
Tammy Haseley
Patrick Hayes
Tom Haywood
Tom Haywood
Marybeth and Rob Heiman
Marty Herron
Elaine Hlaves
Chris and Tanja Holecek
Bill Horning
Randall Hyde
Sal and Lelia Indriolo
Lori and Jay Inks
Ben Jewell
Mike Joyce
Dennis Kapral
Dennis Kapral
Larry and Maryann Kennedy
Tom Kimberly
Dolores Kocik
Scott Kody
Ken Kovatch
Doug Kowalski
Maryjane Kozlowski
Joanne Krejci
Annette Kristosik
Lisa and Rich Kristosik
John Krizansky
Dennis Kuzak
Marilyn and David Kysela
Ellen Ladik
Bob Lampus
Jim Lane
Ray and MargeLang
Gretchen Latchern
Jeff and Judy Lennartz
Todd Leombruno
Gary and Theresa Ljubi
Susan Mackenzie
Jonathan Main
John Malik
Tom Mannakmo
Henry Matousek
Rain Matuch
Steve Gail McPeake
Ethan and Janine McPeake
David and Tamara Meek
Dom and Pete Mikalec
Rebecca Mrosko
Gerry and Carol Musbach
Rick and Susan Nobel
Ryan Nuemeyer
Tim and Lisa O'Connor
Ryan O'Dea
Christine Oblak
Ed and Sue Olah
Scott Olsin
Bruce Page
Greg Paris
Kelly Pask
Mark and Helen Pernice
George Persiano
Steve and Karen Petro
David Pfriem
Steve Piatak
Angelo Pimpas
Jonathan Pohlgeers
GenePompili
MariePompili
Scott Rastovski
Craig and Jan Resnick
Brian Roda
Lisa and Tim Rose
Sharon Roth
David Sabol
Karl Schmidt
Karen Shaffer
Mike Shepherd
Elizabeth Short
Joe Simic
Barbara Furin Sloat
Mary and Ron Smith
John and Barb Stark
Ellen Stefaniak
Mark Steigerwald
James Strerchele
John Swartz
George and Midge Swartz
Joe Swords
AmySue Taylor
Dave and Vicki Thomas
Karen Tolhurst
Minerva Perez Vargas
Deanna Vosmik
John Wagner
Richard Wanders
Meghan Wilson
Chuck St Aubyn EileenWoodrick
Louis and Haley Yarhaus
Chris Young
Cathy Zanella
Lynn Zanella
Rose Zarko
Tim and Cheryl Zuponcic
Pat and Ralph Zuponcic
Steve and Renee Zuponcic
Supelak Family Foundation
Parma Laundry
Safeguard
Reidy Medical
Sibling Revery
BLOSSOM HILL BY THE NUMBERS
Individuals Served in Our Facilities
Number of individuals / families in our SL program
Number of Respite clients / families
REVENUE
In 2022 Blossom Hill received most of its revenue – 98% – through program services, including reimbursement from Medicaid for providing services, respite for indivdiuals and supported living services through waiver funding. Approximately 2% of the organization's revenue was generated from unrestricted contributions.
Unrestricted contributions
EXPENSES
In 2022 Blossom Hill's expenses were direct client care costs, including staffing, facility and individual personal care. These program services costs accounted for 73% of its expenses. The other 27% including administrative costs such as consultant fees, fundraising, office supplies and other administrative expenses.
OUR STORIES
Each person we serve is unique and their story of how they came to us is also unique. We invite you read below the stories of individuals and staff to understand why our services are so valuable and how our individuals can thrive in the right environment.
Finding Fulfilment with Girl Scouts
Growing up, Patience was never able to experience things like hiking and camping until Blossom Hill and the girl scouts adapted programs and activities to specifically include her. As she experienced Girl Scouts with her local troop, she found meaning in the activiites and the community. Patience decided to become a "Lifetime Member" of the Girl Scouts and one of the benefits to becoming a lifetime member is that your membership funds a membership for a less privileged girl. The gesture made Patience emotional and she shared with staff that girl scouts has been one of the most fulfilling things in her life.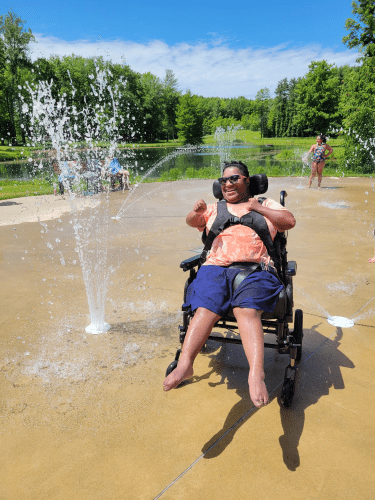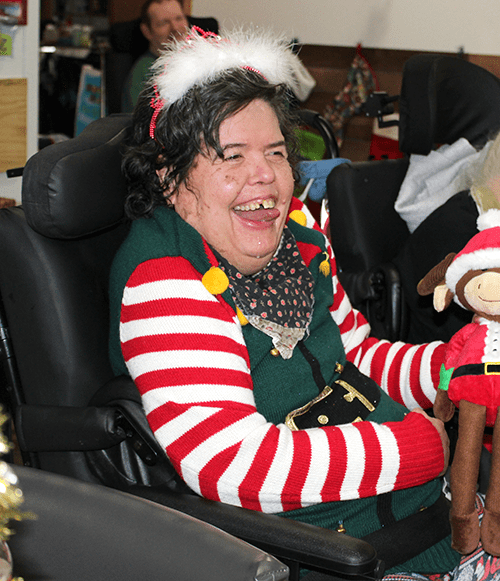 Families Gather for Holidays
We had a wonderful time celebrating the holidays at each house with our family and friends last week. Due to COVID, we have not been able to host our traditional holiday parties in-person since before COVID. Read more and view pictures here.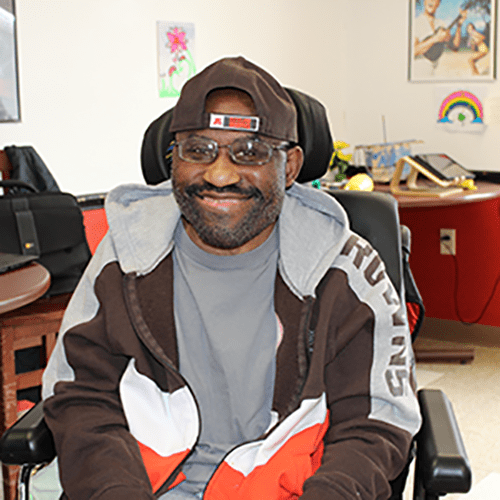 Cedric
To recognize National Developmental Disabilities Month, we are spotlighting individuals, staff, and others in our community! We had fun getting to know Cedric, a individual at Blossom Hill's Parma House with "Random Questions." Get to know Cedric.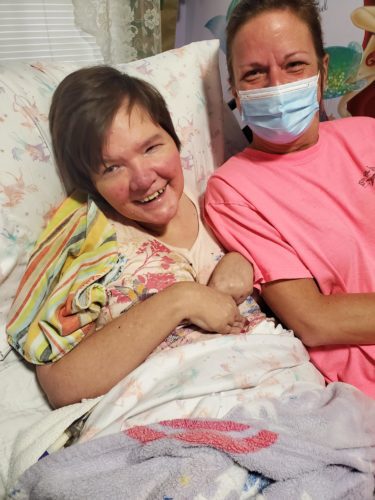 Christine
One of the services that we provide is nursing care from caring, experienced LPNs. We asked Christine, the nursing supervisor at Center Ridge House in Westlake, what it's like being a nurse in this setting. Read more here.
Ericka
We had fun getting to know Ericka, a Direct Support Professional at Blossom Hill's Parma House with "Random Questions" as part of Developmental Disabilities Awareness Month. Get to know Ericka.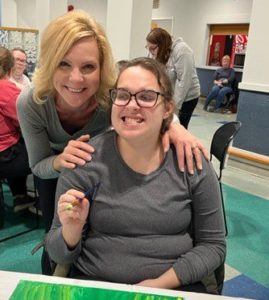 Lisa & Ashley
Lisa takes care of her daughter Ashley as part of our Supported Living Services program and was spotlighted in our staff newsletter. "Lisa is an employee and an advocate as a parent for her daughter. Lisa has displayed not only interest in the mission and goals of Blossom Hill but makes herself always available as part of our family here for any service and insight she can provide. She is so appreciated by all."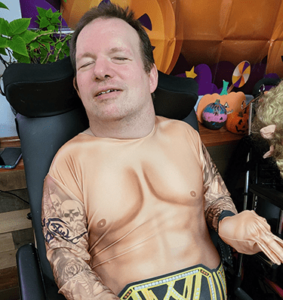 STAFF RECOGNITION
Throughout the year, we celebrated our Blossom Hill's AMAZING team through events, awards, gifts, stories and more.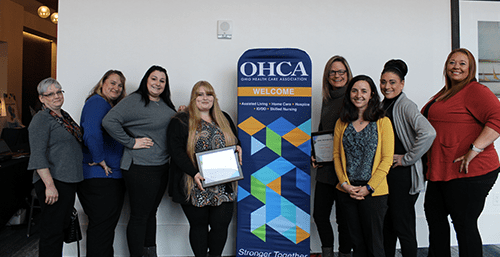 Blossom Hill Staff Recognized at OHCA Conference
We were proud to recognize Tabitha Wachenschwanz, Activities Coordinator, and Christine Oehlstrom, LPN, Nurse Supervisor, at the Ohio Health Care Association's (OHCA) IDD Excellence Awards Ceremony in Columbus in November, 2022. More about the Awards Ceremony.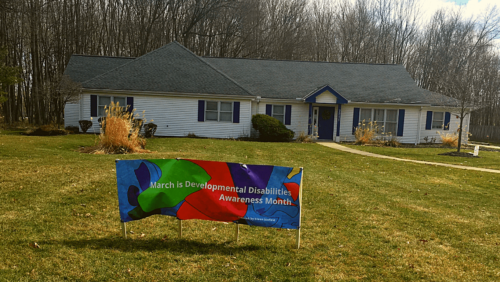 Developmental Disabilities Awareness Month
Each year, Blossom Hill recognizes Developmental Disabilities Awareness Month. This month provides an opportunity for us to bring awareness to advocacy efforts, provide more information about developmental disabilities, and we usually end the month by spotlighting artwork from our indivdiuals and staff. See more highlights from 2022.
Education Night
Blossom Hill will host an education night for parents and guardians on Thursday, April 20 at 5 p.m. Check back on our website for more information.
Staff Recognition Event 2023
Summer Picnic
Blossom Hill will host a summer picnic for staff and individuals to celebrate Summer and enjoy the warmer summer weather. Check back on our website for more information.
Contact Us
For more information about our services or to get added to our monthly newsletter, contact us using the form.