Blossom Hill, Inc. provides a family-style group home setting – Intermediate Care Facility (IFC) – for individuals with developmental disabilities in Northeast Ohio. One of the services that we provide is nursing care from caring, experienced LPNs. We asked Christine, the nursing supervisor at Center Ridge House in Westlake, what it's like being a nurse in this setting.
How did you become a nurse?
My son was in and out of the hospital a lot when he was little. Out of literally hundreds of nurses there are three that I will remember forever. Looking back, the reason they meant so much to me is because they made me feel my son was safe and that's why I went to school and became a nurse.
What is a typical day like for you?
When you come in, you receive report from the previous nurse and then the day, evening, or night shift begins. As a nurse, one of my primary responsibilities is passing medications. In the afternoon, there are two primary "med passes," which is a window of time when many of the individuals are scheduled to take medications. There is also a nighttime med pass. What is nice about passing meds at our facility is that all of the medications come from the same pharmacy.
What are some of the other benefits to working in an ICF group home setting?
Our Medical Director is the primary care physician for all of our individuals – he knows them very well, which makes my job a lot easier. Throughout the day, I work closely with our Medical Director, who is available to us 24 hours a day and takes our calls directly. In other settings, as a nurse who needs to reach a physician, sometimes you can be on hold or delayed when you need an answer quickly, which can be frustrating.
What is your advice to new nurses interested in this field?
I believe one of the most important qualities in a nurse wanting to work here at Center Ridge House or in an ICF setting is taking the time to get to know each individual. Fortunately, we are only a 15-bed facility and it gives me time to spend with everyone.
What do you like most about being a nurse?
As a nurse, having the time and support to assess a situation and work through what's going on for the individuals is so important. It allows you to get the "big picture" of exactly what's going on with each person.
As a mother with a son with special needs being able to put families minds at ease knowing that that family members are being well taken care of is my favorite part of my job.
To recognize National Developmental Disabilities Month, we are spotlighting individuals, staff, and others in our community!
Click here to apply today to join our team!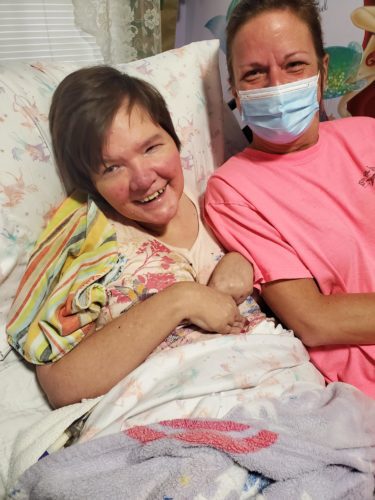 Ericka (left) and Christine (right)