Our CORE VALUES are our guideposts in how we interact with each other and they are incorporated into everything from recruiting efforts to day-to-day life of Blossom Hill homes and beyond. Below are pictures and examples of how we show our Core Values at Blossom Hill – we don't have to look too hard, there are countless examples in each house and among our supported living caregivers every day.
1. Compassion
How we define it: We give like we're a family.
2. Teamwork
How we define it: We work together for a better future.
3. Trust & Respect
How we define it: We treat ourselves and others with trust and respect.
4. Inspire
How we define it: We inspire ourselves and others to be the best versions of ourselves.
5. Integrity
How we define it: We do our best everyday even when no one knows.
Bravo Spotlights
Staff who are nominated for "Bravos" are entered into a Raffle Drawing where a name is selected each month to win a basket of goodies. Bravo winners are staff members who have gone above and beyond and exemplify one of our Core Values: Compassion, Teamwork, Trust & Respect, Inspire, or Integrity.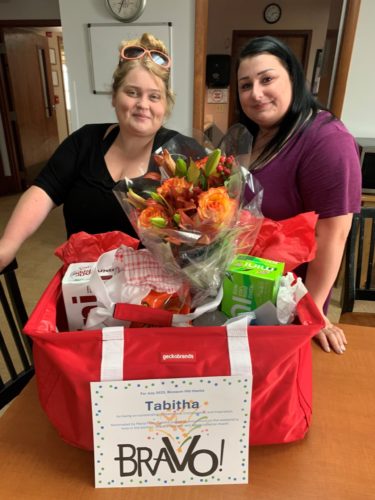 Congratulations to this Month's Raffle Winner: Tabitha W. Activities Coordinator, Center Ridge House
Core Values: Compassion, Teamwork, Inspire
"Tabitha picked up extra hours on the weekend to help in the kitchen. She is a rockstar and appreciated so much!"
August 2023 Bravos
Adrienne Gonzalez
Teamwork, Integrity
Adrienne prepared special reports for OPRA. These reports took additional time yet Adrienne was able to keep up with all her other duties and helped me to prepare for the meeting with our EOC Board members at the same time.
Christine Curran
Teamwork, Inspire, Integrity
Christine demonstrates abilities of caring, compassion, and control everyday. She is tstrong, steady, and infallible. Not matter what the situation Christine is level headed, and one step in front of the other to make each shift she works a success.
Eva Swaboni
Teamwork, Inspire, Integrity
I never see this woman sit still. I witnessed her organizing closets, cooking lunch for the house, while still keeping the individuals engaged and making it look easy. Her ability to multitask will always be inspiring.
Eva Swaboni
Compassion, Teamwork, Trust & Respect, Inspire, Integrity Eva is the hardest worker in this place. Every time I come to work and she is my partner I know that I am going to have a good day. She is compassionate with the individuals and they all trust her. She is great at teamwork and always does her job to the best of her abilities.
Eva Swaboni
Teamwork, Trust & Respect, Integrity
When the individuals see Eva, some of them will go get their shoes or grab her hand to indicate they want to go for a walk with her. She makes sure she gives them her time for a morning walk. Also, she volunteered on a Friday to make the dinner for both houses and involved the individuals while doing it.
Larry Lalkowski
Compassion, Teamwork, Integrity
Larry has been spending time with individuals that tends to be relaxing for them. This may be singing to them, playing ball, tracing their hand on paper or recognizing something small in their environment could make a difference. He also opened a door for me when I had my hands full without me asking.
Laura Zarycki
Compassion, Teamwork, Trust/Respect, Inspire, IntegrityLaura came in and worked as a med passer when she was supposed to be on vacation. Thank you Laura for helping out.
Maria Fein
Teamwork, Inspire
Maria jumps in a helping hand no matter what the situation. She has a personality that attracts and inspires laughter and joy with every interaction.
Melissa Spies
Compassion, Integrity
For making a wonderful birthday lunch and cake to celebrate an individual's birthday that was shared with her mom during her visit as well.
Neala Carter Peralta
Teamwork, Trust & Respect
Neala is the new house manager at the North Royalton location and one of our respite families extended a compliment to the weekend staff mentioning that she seems like a great fit with the right attitude, and I agree. It's awesome to see her thriving early on and maintaining good relationships with our respites and their families.
Nicki Tetzlaff
Compassion, Teamwork, Trust & Respect, Integrity
Nicki demonstrates attention for details, and putting indivuals needs first. Most recently Nicki has been a huge team player and advocate by taking on extra cleaning and work at night and reporting changes in individuals that allows for us to meet residents needs quickly and efficiently.
Rachel Rickles
Compassion, Teamwork, Inspire
Rachel is a full time agency worker at Blossom house and Haven house. Everytime Rachel comes into work she models some of Blossom Hills core values such as team work and inspires other workers to do there very best. For example, Haven House currently does not have a cook but Rachel takes the time to prep breakfast meals to help out the individuals and the staff. In addition, she always helping out with chores to lessen the load on her fellow co-workers. She is very deserving of a bravo because she models team spirit and compassion for the individuals and staff.
Steven Houchens
Teamwork, Trust & Respect, Integrity
Steven goes above and beyond in care for our residents but what stands out immensely is his ability to jump in any role like placing bed rails on beds, to cleaning up garbage outside dumpsters from raccoons. His night shift team appericated his positive "can do" attitude.
Troy Eldridge
Compassion, Teamwork, Trust & Respect, Inspire, Integrity
Troy has worked on the landscaping at CRH volunteering his own time to improve the outside for our individuals. Thank you Troy!!!
July 2023 Bravos
Keishla M.
Compassion, Teamwork, Trust & Respect, Inspire, Integrity
Keishla has only been with the company for a little over a month, and in that month she has gone above and beyond. She has picked up multiple shifts, including doubles and coming in on her days off. She helps other staff when she has a moment, whether it be for resident care or cleaning the house. She even spent many hours at the hospital when one of the residents were ill . She always has a great attitude and the residents love her.
Miro R.
Integrity
Miro swept the floors before and after he mopped to make sure they were spotless!
John D.
Compassion, Inspire
John deep cleaned a shower chair that really needed it!
Will G.
Compassion
Will changed one of our individuals and made him really happy by laughing and clapping with him.
Elisha C.
Compassion, Teamwork, Integrity
Elisha took the initiative to clean and organize the basement without being asked. It looks amazing, thank you!
Troy E.
Compassion, Inspire, Integrity
Troy came to Center Ridge House on his day off and spent many hours pulling weeds and clearing out our flower beds, focused on making sure our home looked nice on the outside. You are truly appreciated for all you do!
Jamie T.
Compassion, Teamwork, Inspire
Jamie brings a level of inclusion to our individuals that is so refreshing to see. She naturally makes people feel comfortable and is never afraid to crack a joke. Watching the individuals interact with her is so inspiring, it's clear she is more than just a staff member to many of our special folks.
Adrienne G.
Compassion, Teamwork, Trust & Respect, Inspire, Integrity
Adrienne truly exemplifies each of the core values. No matter the situation, she is not only willing to help but wants too. She keeps her composure and radiates being calm, cool and collected all while balancing her own workload and teaching me the tricks of the trade along the way.
Laurie P.
Compassion, Teamwork, Trust & Respect
Laurie goes over and beyond with the residents and is always coming in when supposed to and more.
June 2023 Bravos
John Darovich
Compassion, Teamwork, Trust & Respect, Inspire, Integrity He personifies leadership by his actions not his words, great with individuals. Thanks John!
Lisa Kristosik, Jessica Toivonen, Jeany Tri, Bridget Bernhard, Adrienne Gonzalez, Emily Dubyoski
Compassion, Teamwork, Trust & Respect, Inspire, Integrity
The members of EOC have worked hard over the past year and derserve to be recognized for their continued support of our "Employer of Choice" initiative.
Kaylee Roszak, Tammy Casper, Michelle Schneidly, Collin Wells, Christine Curran
Compassion, Teamwork, Trust & Respect, Inspire, Integrity
Thank you to everyone who helped us throug a difficult time with an individual and his mother.
Adrienne Gonzalez, Samantha Rockwell, Jeany Tri, Bridget Bernhard, Jessica Toivonen, Maria Fein, Harry Cool
Teamwork, Integrity
Special thanks to everyone who volunteered their time to help with our golf outing!
Pamela Denzler, OTR/L & Susan Powers, SLP
Compassion, Teamwork, Inspire
Pam & Sue uses their creativity, resources and gadgets to help benefit the individuals each time she is here. She will take time to educate the staff.
Deanna Sheehan, LPN
Compassion, Integrity
Deanna gave book and author suggestions to an individual. She loves listening to the books on her IPad. She is happy to let everyone know that Deanna gave the recommendations.
May 2023 Bravos
Christine Blaut
Compassion, Integrity
"Christine comes in to work with a smile on her face and will surprise us with flowers for the dining room tables or a treat to be shared during coffee time."
Jeany Tri
Teamwork, Trust & Respect
"Jeany has been a great mentor. She is thorough when she is going over new paperwork. She follows up and is patient with me when I have many questions. I like being able to bounce ideas off of her and come up with an end result that benefits the individuals."
Kaleigh Roszak
Compassion, Teamwork, Integrity
"Without a negative word and a smile on her face Kaleigh volunteered to clean up an enormous amount of vomit."
Michelle Ansel
Compassion, Teamwork, Trust & Respect, Inspire, Integrity
"Thank you so much for helping out on third shift as a delegated med passer and being so flexible with your schedule."
Michelle Schiedley
Compassion, Teamwork, Trust & Respect
"Thank you so much for being flexible and picking up extra shifts!!!!!"
Miro Ruiz
"He personifies leadership by his actions not his words, great with individuals"
Ping Rowland
Compassion, Teamwork, Trust & Respect, Inspire, Integrity
"Ping gives her 100% to the individuals every time she works. She will jump in and be a dsp, make a special meal, cuts hair, enjoys going on outings, or sings a variety of songs throughout the day. The individuals laugh with her and enjoy having a cup of coffee with her. She is a strong advocate and will speak up for them."
Sonia Richardson
Compassion, Teamwork
"Thank you for taking care of an appointment for an individual."
Toni Kelly
Compassion, Teamwork, Trust & Respect, Inspire, Integrity
"Toni is always willing to help out when nursing is short and sometime it's very short notice. Thanks for all you do!"
Troy Eldridge
Compassion, Teamwork, Trust & Respect, Inspire, Integrity
"Thank you for picking up extra shifts while we are short nursing staff."