Our Mission
We enhance the daily lives of disabled adults and their families through loving, personalized care.
Who We Are
We are a team of more than 100 compassionate professionals who provide family-style group living (respite and long-term residential care), in addition to supported living services for individuals in their own homes.
Our staff of nurses, cooks, direct support professionals, activities directors, housekeepers, Qualified Developmental Disability Professionals (QDDPs), and shift managers provide around-the-clock personalized care in a loving environment.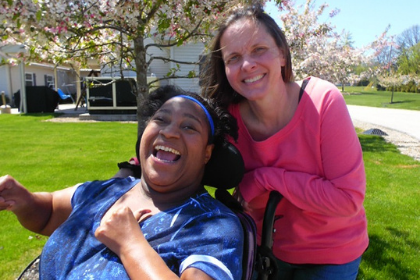 We can't get over how caring the staff is. They are compassionate and concerned. Thank you for making everyday special for my son and us. We know that the staff, from the cooks and caretakers to the skilled medical professionals, genuinely care for the residents at Blossom Hill.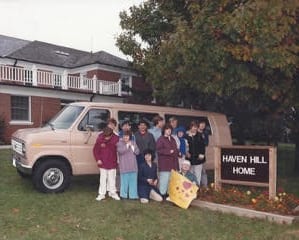 Our History: The First Group Home In Cuyahoga County
A group of concerned parents of disabled children came together in 1968 to form Children Forever Haven, which eventually became Blossom Hill. The organization originally provided a school and summer camp for disabled children.
Blossom Hill opened our first group home in 1983, in Brecksville, Ohio. The state-licensed facility served mentally and physically disabled adults in a loving, warm, and nurturing environment.
In contrast to traditional institutions at the time, which often kept people with disabilities largely confined, Haven Hill provided a more personalized experience in a home-like setting. It was the first group home in Cuyahoga County designed to meet the unique needs of each individual within its care.
Our second residence opened in Westlake, Ohio, in 1988. Center Ridge House was specifically designed to meet the needs of non-mobile individuals, most of whom had profound medical disabilities.
Today, Blossom Hill operates three facilities housing dozens of individuals receiving long-term residential and short-term respite care. The Center Ridge facility is still in operation, and two state-of-the-art homes in North Royalton – Haven Hill and Blossom Hill – have replaced the original Haven Hill. We also provide in-home supported living services.
Our Founder
Angeline Lennartz, lovingly known as "Angie", saw a need for therapy and special training for the profoundly disabled in the community that was not being provided by city, county or state agencies. Inspired by her daughter, she founded and opened Children Forever School on May 29, 1968.
Classes were held at the Ridgewood United Methodist Church in Parma, Ohio, peaking with 65 students and 38 staff members in the 1980s. Children Forever School became a comforting, nurturing place where students developed feelings of independence as they learned.
In 1983, the next vision came together as our first group home opened in October. Building on the years of service and dedication to the mission and vision of Children Forever, our name was changed to Blossom Hill, to better reflect our service to the adult disabled population, in 1986.
Beloved founder Angeline Lennartz retired from the Blossom Hill board of directors in 1992, and passed away in 1993.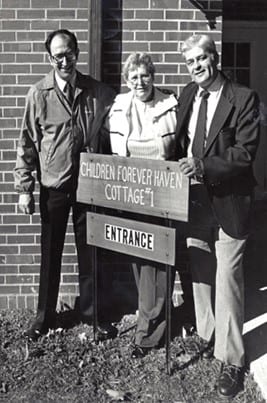 Pictured (L-R): Gust Dadas, Angie Lennartz and Joe Slensak
Grand Opening of Children Forever Haven Cottage #1 on November 1st, 1983