Linda has been the primary caregiver for her son, Christopher, for over 30 years. As a complete quadriplegic and non-verbal, Linda relies on her son's facial expressions to understand his needs. That's why, she says, his laid-back personality, his pleasant demeanor and his smiles are very reassuring to her on her hardest days.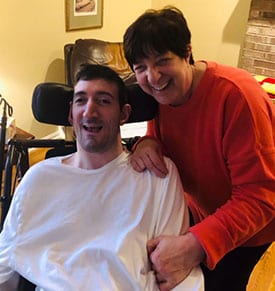 And, because of COVID-19, the days have been very hard.
Day programming that Christopher would normally attend for a few hours each day was canceled. Help from an in-home caregiver that she normally receives is also temporarily on hold. Respite care is available but she doesn't feel that it's safe for him at the moment.
"When you don't have help, it's just very hard."
For now, Linda is "taking each day one day at a time," looking forward to when, hopefully soon, she and her family can regain a sense of normalcy. For Christopher, normalcy is shopping at flea markets with his father and people watching. She says he loves to be around other people and be part of the group. For her, she hopes she can get back to shopping, which is something she says relaxes her.
"It's been a challenge but a rewarding challenge…the fact that I can try to make his life a little more comfortable, a little better," she said. "At the end of the day, you feel like you gave them another day."
As part of Blossom Hill's Supported Living Program, Linda is employed and trained by Blossom Hill.
Our Story Matters is a Blossom Hill campaign aimed at bringing to life the stories of the people that make up our rich and vibrant organization.