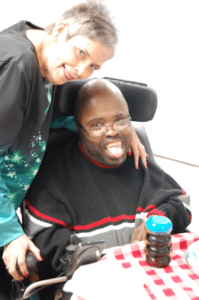 Ernie has lived at Parma House since it opened in 1993. He enjoys watching football, traveling, and drinking coffee. He took a very memorable trip to Disney World in 2017 accompanied by two DSP caregivers and said his favorite ride was, "the plane ride on our way there in First Class!" He's also been to Niagara Falls, Florida, and many other places.
While he loves to travel, he also likes coming back home to Parma House and he says, "I got all my friends here."
Our Story Matters is a Blossom Hill campaign aimed at bringing the stories of the people that make up our rich and vibrant organization to life.
Parma House is one of four residential group homes owned and operated by Blossom Hill, Inc. The home provides care for adults with profound intellectual and physical disabilities living in the Greater Cleveland Area. Our homes provide a loving environment and personalized 24-hour care for our individuals, short-term respite care for families that need temporary care for their love ones and supported living care options.