By Christine Oehlstrom, Nursing Supervisor at Center Ridge House
When my son was little, he was in and out of the hospital a lot. Out of literally hundreds of nurses there are three that I will remember forever. Looking back the reason they meant so much to me is because they made me feel my son was safe and that's why I went to school and became a nurse.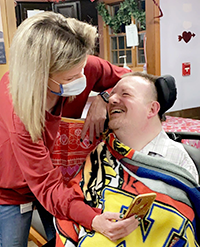 After working in long-term care facilities for many years, I decided that I wanted to try a different setting. When I applied for Blossom Hill's Center Ridge House, I honestly didn't know a whole lot about group homes so I really didn't know what to expect but having a son with Downs Syndrome made me curious to see what working in a group home would be like.
Center Ridge House (CRH) is a 15-bed Intermediate Care Facility (ICF) with the level of care varying from "prompt and remind" to "total care." As a nurse, walking in and hearing that I would be taking care of the same 15 individuals day-in and day-out was a breath of fresh air and I really was hoping to get the job. Once I was hired, I was impressed by both the access to our Medical Director and the staff to individual ratio on the floor. Our Medical Director sees all 15 of our individuals for their primary care needs and is available by phone 24/7. We also have 4-5 Direct Support Professionals (DSPs), aides who assist the individuals, working most shifts. Having the time and support to assess a situation and work through what's going on for the individuals is so important. As a nurse, it allows you to get the "big picture" of exactly what's going on with that person.
For the first time as a nurse, I was proud to go to work. As a mother with a son with special needs being able to put families minds at ease knowing that that family members are being well taken care of is my favorite part of my job.
Working with the individuals at Center Ridge is a gift every single day that I come to work. The individuals get to know you, trust you and are grateful for your help.
Join our team! View current openings.