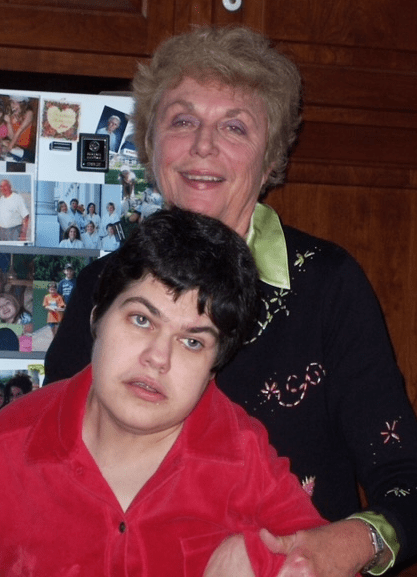 Deanna (Dee) Vosmik had a storied career in the field of developmental disabilities (DD). As the Director of Residential Services at the Cuyahoga County Board of Developmental Disabilities, Dee led the effort to build the county's first group home for children and adults with developmental disabilities, phasing out traditional hospital institutional-living settings. From 1983-2002, she built 57 group homes in Cuyahoga County, many of which still exist today, including Blossom Hill's Parma House and the Center Ridge House in Westlake. In 2014, she was inducted into the Cuyahoga County Board of Developmental Disabilities Hall of Fame.
Dee's path to becoming a leading figure in expanding services for children and adults with developmental disabilities began in 1965 with a life-altering accident. Her youngest daughter, Lisa, at just one month old, incurred a traumatic brain injury, leaving her permanently developmentally disabled. At three years old, Lisa still couldn't walk. Suddenly, Dee and her young family of five had to learn how to navigate a system foreign to them to find the right care for Lisa.
Because of Lisa's accident, Dee decided to go back to school to obtain her bachelor's degree in special education and, eventually, her master's degree in counseling. As part of a research project, Dee interviewed over 300 families in Northeast Ohio with children who had developmental disabilities. She discovered that there were few, if any, options for respite care, temporary relief for families caring for a loved one with extreme medical and social needs. Through a grant, the research team created a respite program and offered this valuable service to families. Due to her work on this project, Dee captured the attention of the county board and built the group homes.
Dee's foresight also provided a solution for her own daughter. At home, Lisa was taken care of by her older sisters, Lori and Linda, and her parents. In 1988, the county opened the doors at the Center Ridge House, which would eventually become part of Blossom Hill, Inc. Lisa was one of the first residents at the facility and lived there for 28 years. At that point, Lisa was walking thanks to the physical therapy she received. Although the transition was emotional, Dee's advice to parents of developmentally disabled children is to start having conversations about permanent placement very early, so families get used to the idea of their loved one living somewhere outside the home where all their needs are covered.
As a result of Dee's vision, Lisa thrived at Blossom Hill's Center Ridge House. Her favorite pastimes were listening to music on her CD player, putting together puzzles, and shaking her ever-present hand bells.