Bravo Spotlights
Staff who are nominated for "Bravos" are entered into a Raffle Drawing where a name is selected each month to win a basket of goodies. Bravo winners are staff members who have gone above and beyond and exemplify one of our Core Values: Compassion, Teamwork, Trust & Respect, Inspire, or Integrity.
Congratulations to the February Raffle Winner:
Wanda Rosa Ruiz
DSP Center Ridge House
Core Values:
Teamwork
"Wanda did an amazing job imparting her knowledge to a new staff! She was patient, gave examples and really took her time. Way to role model teamwork!"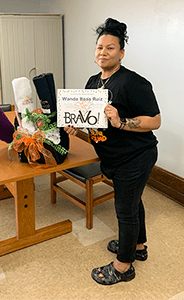 Wanda with her gift basket!
February 2023 Bravos
Adrienne Gonzalez
Teamwork, Integrity, Inspire
"During Night to Shine, Adrienne jumped right in to help with everything from getting the individuals into the room, to feeding, to being a "buddy" for an individual who wasn't even part of the BH group. She never complains and always does a great job with whatever comes her way!"
Anthonella Carpio-Polenco
Compassion, Inspire
"Anthonella makes times to do a special activity with each individual when she works. This could be doing their hair, nails, reading to them, playing a game or playing their favorite music on the radio."
"Antonella is very quiet but I recently heard her interacting with an individual in another room. She was so patient and compassionate. She is always caring but this day really stood out!"
Beatrice Glinska
Integrity, Teamwork
"Bea consistently demonstrates what it means to be an advocate for the individuals. She always puts them first in many ways – from taking them on outings to making sure their home is comfortable to putting up festive decorationsfor them in the homes to making sure they have the proper medical care."
"What a memorable Valentine's Day party! Perfect food and music mixed with laughter and dancing. Fantastic team creating the prefect event!"
Brian Myers
Compassion, Teamwork, Trust & Respect
"Brian was very helpful with several individuals wheelchairs to make sure the individuals remain safe. He was able to repair things that here a health and safety issue."
Bridget Burnhard
Integrity
"We could not ask for a more compassionate, knowledgeable and responsive DON. Her integrity is beyond reproach and we are all incredibly lucky to have her on our team."
Christine Oehlstrom
Teamwork, Inspire
"Being a nursing supervisor is not easy. Maintaining the nursing schedule is a full time job on it's own. Christine has shown her scheduling acrobatics to get the shifts covered. She is able to get be nurses to pick up hours that they would usually turn down. To work split shifts, doubles and swing shifts in one week to cover shifts is inspiring and the definition of flexibility."
Frank Lucas
Teamwork, Integrity, Compassion
"Frank made an awesome birthday cake for our individual. He recognized that the DSPs were busy and involved some of the other individuals to make sure a yummy cake was prepared."
"During valentines party since Frank did not have to cook- he did some prep work for both houses during the transition – he was working on the next days meal and was also thinking about how he could assist for the weekend! This is great teamwork! Great Job Frank!"
Harry Cool
Compassion
"Thank you Harry for researching and finding additional benefits for employees. Your effort is much appreciated!"
Jamie Tucker
Compassion, Teamwork, Inspire
"She pulled on her brief background with ASL and helped our deaf respite feel more comfortable and understood. She made a huge difference in communicating with him and helping other staff members communicate better as well."
Jeany Tri
Teamwork, Integrity
"As Director of QA, Jeany's plate is definitely full. Keeping everyone on track and on point, is a near impossible task. Her dedication make her an integral and invaluable part of our team. Thank you Jeany!"
Laura Zarycki
Inspire, Teamwork, Integrity
"Laura makes sure the board is updated with the word of the day and brings humor to some potentially stressful situations. She inspires others to bring that same level of dedication."
"What a memorable Valentine's Day party! Perfect food and music mixed with laughter and dancing. Fantastic team creating the prefect event!"
"The staffing shortage affects all areas, including nursing. Laura has really stepped up for nursing, volunteering to help with med passing, during the day or night. Laura is an integral part of our team and makes the team stronger. Thanks Laura!"
Laurie Peterson
Inspire
"Laurie was following a new menu, and although she had never made this dish, she put all her talent into it! Way to try new things and encourage others!"
Steve Ryan
Compassion, Trust & Respect
"Steve was able to help out with an emergency situation. The individual had a trusting face to look to during a difficult time."
Summer Thomas
Teamwork
"What a memorable Valentine's Day party! Perfect food and music mixed with laughter and dancing. Fantastic team creating the prefect event!"
Tabitha Wachenschwanz
Integrity, Compassion, Teamwork, Trust & Respect, Inspire 
"Tabitha works at the highest level of integrity and compassion. Her willingness to always step in and help no matter what is a true testament to her love for our individuals. I am so grateful to have her on the Blossom Hill team!"
"Tabitha took the initiative to buy all the decorations for the Valentine's Day dance and put together gift bags for each of the individuals (for all of the houses). She is the definition of 'above and beyond'" 
"Tabitha worked so hard during Night to Shine – she helped organize the tables and make sure the buddy assignments and tables made sense, she fixed the van lift when it wasn't working and it was freezing outside, and then she stayed late to make sure all of the individuals were put to bed and that everyone made it back ok. She does SO much for the individuals and a lot of it is not in the spotlight."
"What a memorable Valentine's Day party! Perfect food and music mixed with laughter and dancing. Fantastic team creating the prefect event!"
"Tabby goes above and beyond with the individuals at CRH. She has spa days for the ladies and paints their nails with creative designs. One of the things that really stands out is when an individual was taken to an ER out of the county and ended up staying until the wee hours of the morning, after working a full day. She stayed with the individual to ensure he was OK. Her dedication, compassion and teamwork are definitely an inspiration. Her actions helped her maintain a trusting and respectful relationship."
January 2023 Bravos
Aida Olmeida
Compassion
"Aida has been a great addition to this company. Even, when she just first started. It's noticeable how passionate and always excited she is when she comes to work. She always brings positive attitude and knows our individuals need accordingly. She possess all the core values to be nominated."
Anthonella Carpio-Polenco
Teamwork
"Volunteering to stay over for a call off despite bad weather on a weekend so no one had to be mandated."
Beatrice Glinska
Integrity, Trust & Respect, Teamwork, Inspire
"Bea helps everyday she is at work and everywhere she is need. Either Bea is working the floor at Abby or helping with activities at Parma House. Bea is always leading by example and always inspiring the residents."
"Teamwork is more than helping when asked to pitch in. True teamwork is seeing what the team needs and completing those tasks without being asked or even drawing attention to yourself for having helped out. Bea always exemplifies the spirit of teamwork but over this last year I would say she defined teamwork. When we were exploring technology solutions for charting Bea stepped up and took the lead. She spent hours on the phone and on the computer attempting to onboard everything. When midway through the endeavor we switched to Britco Bea didn't complain. She didn't smile, but she didn't complain. She simply asked, "what do you need me to do?"When we lost management staff Bea stepped up and filled voids without asking or advertising. She completed clothing inventories, planned parties, completed respite paperwork, planned outings, worked extra shifts to cover call offs and still completed all her own responsibilities. Teamwork, the vision to know what needs done and the spirit to simply do it."
Christine Curran
Compassion, Teamwork, Trust & Respect, Inspire, Integrity
She was my caregiver for my daughter for years. Her dedication, professional work ethic and overall attitude is unlike none I've ever seen from any other caregiver!!! I am sure she is the same at Centeridge House.
Eva Swaboni
Teamwork, Compassion, Trust/Respect, Inspire, Integrity
"Eva is always there to help others. She happily trains new staff and makes sure the individuals get the absolute best care possible!"
"Eva is an asset at this company. She always goes above and beyond for the individuals. When I work with her, I know that I only have to worry about our timing on getting things done and I don't have to do the job of 2 DSPs. She doesn't compain. She is kind and knowledgeable. We are lucky to have her here on 1st shift. And vice versa, she knows when she works with me she won't have to run around like crazy because she knows we work as a team and not every man for himself."
Isabel Sanchez
Compassion
"Isabel is reliable, emphatic and always step up to get all tasks done for the comfort of our individuals. She's a kind of DSP that doesn't require supervision because as her supervisor, I know she's doing her responsibilities with dignity."
John Darovich
Teamwork, Compassion
"John does an outstanding job as an individual and always picks up and helps the resident and people within our beloved family."
Krysten Weybrecht
Teamwork, Compassion
"Krysten has selflessly given up her established life in Savannah GA. to become August's primary caregiver because his mother is battling cancer. Because of Krystens commitment and high quality care, August has not experienced any emotional or physical challenges or disruption and continues to thrive under her care."
Krystyna Pietrzycki
Compassion
"Krystyna has been with Blossom going on 10 years. As she's worked her way up to Dietary Supervisor and with my short time here, I've seen how passionate she is in the kitchen. She ensures the residents have good nutritious meals to eat along with allowing them to watch her cook while she's in the kitchen. If something isn't right with her food orders, she's not afraid to speak up or give her input on better ways to provide for the residents."
Laura Zarycki
Compassion, Trust/Respect
"Laura is a person that give her all to our individuals. She does everything that can make the lives our individuals worthy. She's a kind of employee that give up the easy task to do the tasks that most people don't want to do."
"Laura and others assisted with a beautiful celebration for co worker retirement- they went above and beyond!"
Michelle Schiedly
Compassion, Teamwork, Inspire, Integrity
"Michelle has been very flexible with her schedule and helping pick up open shifts when short on third. Michelle has helped smooth the third shift staffing issues helping Maria come up with check off lists to ensure all work is done."
Minday Thomas
Compassion, Integrity, Teamwork
"Mindy has been picking up an incredible amount of overtime because she is there for her teammates and definitely wants to make sure our individuals have everything they need."
"Mindy goes above and beyond every time she steps out onto the floor. The individuals are always a first priority for her. She will make sure each individual feels special every day. Her interactions with the individuals makes them know that she cares about them. Her knowledge of the individuals allows her to know their needs and wants especially when their communication needs to be interpretted. She will involve the individuals in activities and always comes up with ideas to go on outings. She has taken individuals for outings for their birthdays. Her specialty is making homemade pancakes and breakfast sandwiches in the mornings. also, she is a tough trainer but an effective one because of her dedication and knowledge."
Tabitha Wachenschwanz
Teamwork
"Tabitha is the center of Center Ridge House. On top of her specific job duties, she can be found doing transportation, cooking in the kitchen, or filling in as a DSP. She ensures that each individual has everything that they need and want, and works tirelessly to provide enriching activities and community outings. Center Ridge House would not be the same without Tabitha. She truly is our star."
Wanda Rosa Ruiz
Teamwork
"Wanda goes above and beyond to pick up shifts when needed and tend to the Individuals and their needs, she is quick to jump in when there is an issue and assist whenever needed."
December 2022 Bravos
Raffle Winner: Lori Inks
Compassion, Teamwork, Trust/Respect
"Lori acts as the cheerleader for Blossom Hill. She has a great attitude and is always up for a challenge. She is caring and works to make sure everyone is included."
Aaron Walker
Teamwork
"Aaron continues to work on keeping track of the spending at Abbey and making sure that all activity is documented. His dedication to Teamwork is very much appreciated."
Adrienne Gonzalez
Teamwork
"Adrienne worked really hard to make sure all the Staff Bonus amounts were correctly entered into the payroll. This was on top of processing the normal payroll and was done over the Thanksgiving Holiday weekend."
Brian Myers
Teamwork
"Brian took the time from his busy schedule to help Santa at the Center Ridge Christmas party. He helped Santa bring out the presents!"
Bridget Bernhard
Teamwork
"Bridget made sure I was aware of Barry's reaction to Santa. It made my job easier and I appreciate the fact that she wanted to make sure I understood his reaction."
Christine Blaut
Compassion, Integrity
"Christine does soo much for the individuals. She was a big part of the Coffee Time here at Haven Home. She would either make something or buy something special. Even though the weekly coffee time stopped, she still brings in goodies for the individuals and staff and will make time for a cup of coffee with us. Also, she brings in flowers and plants for the tables and other decorations without being asked. And she has candy in the office!!!!"
Eldridge Ponder
Teamwork, Trust/Respect
"Eldridge is always up-to-date with his financial documentation and works to make sure that all information flows to finance as well as other members of our operations. He has quickly become a valued member of the leadership team."
Emily Dubyoski
Compassion, Inspire
"Although it is part of Emily's job to document the activities at Blossom Hill, she always goes the extra mile. She took the time to make sure each individual at Center Ridge House got a picture taken with Santa at the Christmas Party. I appreciate her caring so much about our individuals."
Evelyn Gross
Compassion
"Evelyn worked all day on Christmas, making sure that the individuals not only had a delicious Christmas dinner, but that they were taken care of and able to open their presents."
Harry Cool
Compassion, Inspire
"Harry was a wonderful Santa – he spent a lot of time with each individual!"
Jeany Tri
Teamwork
"Jeany made sure I had everything I needed to be Santa and even had one seee the one individual who was not feeling well."
LaShawn Clinton
Teamwork
"Shawnie made sure that each individual had a picture with Santa and helped me pass out the presents."
Laura Zarycki
Teamwork
"Laura helped Santa in passing out all the presents at the party. I so appreciate the assistance, especially with the ones I don't know."
Maria Fein
Compassion
"Maria spent time with an individual who was having a rough time. She spoke softly and rubbed his back to help him to stop crying."
Michelle Ansel
Compassion
"Michelle worked a double on Christmas Day, making sure that our individuals were taken care of, and that they had a great Christmas."
Tabitha Wachenschasanz
Teamwork
"Tabitha sent me pictures of all the individuals at her house and she also organized all the gifts for "Santa." Her help made the party so much better."
Tabitha Wachenschasanz
Compassion, Inspire
"Tabitha ensured that all of the individuals had everything they needed and wanted for Christmas. She spent many hours decorating, shopping, wrapping, and preparing for Christmas."
Wanda Rosa Ruiz
Compassion
"Wanda worked past her shift on Christmas Eve and also worked a double on Christmas Day. She made sure our individuals had a great Christmas, opening presents with them and showing compassion."