An important person for someone with developmental disabilities is a Direct Support Professional or DSP. But what exactly does a DSP do at a Intermediate Care Facility like Blossom Hill? We asked Andrea, a DSP, at our Blossom & Haven Houses!
How did you become a DSP?
I worked with many of the individuals who live at Haven Home when I was a DSP for a workshop program through the county. I have known them for many years. At the county, I have been involved in many trainings and have learned a lot as a DSP.
What is a typical day like for you?
There is not really a typical day. If you work this type of job, you need to be flexible and positive because every day is different.
When I arrive at work, me and my teammates for the day go to the individuals' rooms and check on them to see if they need anything – need to be changed or are ready to get up. My shift starts at 6 a.m. so it's pretty early, before anyone is really up.
When they wake up, we take them to the bathroom, help them get up and dressed, help them eat breakfast, and get them ready for the day.
After they eat breakfast, we interact with them, given them the activities that they like – each person is different and some of them like to do their own thing.
What are some of the challenges that you face?
Your personality and attitude have a lot to do with how much you'll like to be a DSP. For me, I don't find this work challenging. I try to come to work knowing that there is not a "typical day" and that I have to be flexible. You have to have an easy-going personality but if you do, you'll do great.
What do you like most about being a DSP?
I love to take care of them. I have known them for so long that I really miss them when I don't see them!
What do you do on your off hours?
I usually have three days off and for at least one of those days, I stay home and clean. Otherwise, I like to be active, and I like shopping, too.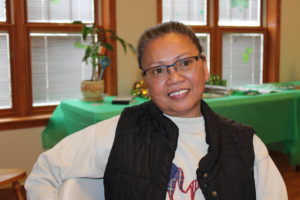 Andrea
DSP, Blossom/Haven House
To recognize National Developmental Disabilities Month, we are spotlighting individuals, staff, and others in our community!