Types of Care: Respite Care
Families who need a break can take advantage of our short-term care option.
The staff is kind, loving and very supportive. The facility is always clean and maintained. They have always included my daughter in events going on even for short respite stays. Thank you Blossom for a peace of mind!
Respite Care: Your Loved One is in Good Hands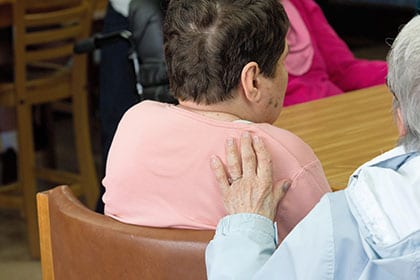 Families that care for loved ones with physical and/or mental disabilities face profound challenges, and sometimes they need a break.
All of our facilities offer safe, licensed short-term care options to those families who need temporary help, whether due to career demands, trips out of town, medical procedures, or for other reasons.
Our nurses and supporting staff provide meals and round-the-clock care in a loving environment for individuals with high medical needs, such as G-tube, J-tube, diabetes, medication administration, and wound care.
Individuals can stay in private rooms for up to 90 days. Our beds are licensed through Residential Respite and Institutional Respite through the State of Ohio.
Certifications and Audits: The Utmost Professional Standards
Certification – Blossom Hill is certified by the Ohio Department of Health.
Licensure – Blossom Hill is licensed by the Ohio Department of Developmental Disabilities
Transporting residents to medical appointments, recreational activities
Housing
24-Hour Nursing Care
Dietary and Therapy Assistance