Greenhouse and Activity Center Unveiled at Blossom Hill Inc in North Royalton Thanks to Generous Good Shepherd Foundation Grant
August 31, 2023 – Four years ago, Blossom Hill, Inc. began the process of installing a walkway and greenhouse and activity center behind its property in North Royalton on Abbey Road. After COVID-related delays, the organization is proud to unveil the Greenhouse and Activity Center on Thursday, August 31. The project was largely funded through a generous grant from the Columbus-based Good Shepherd Foundation for $160,000. The grant is the largest in the foundation's history and was used to build the greenhouse, as well as an outdoor garden area and walkway. These new activities expand safe exercise and recreation options for the 36 individuals and staff members who reside at the property and Blossom Hill's other residential facilities in Westlake and Parma.
"We would like to thank our generous supporters who have been advocates for this project from the beginning, especially our partners at Good Shepherd Foundation for turning this dream into a reality," said Lisa Kristosik, CEO of Blossom Hill.
The indoor and outdoor spaces will provide a haven where individuals can develop new skills, achieve their goals, and grow in the community together. Blossom Hill also hopes that the Greenhouse will be a way to engage the larger North Royalton community through volunteering opportunities. Activities may include growing food, developing work and management skills, and sharing responsibilities for the maintenance and upkeep of the greenhouse and surrounding gardens.
In November 2020, the first phase of the project was completed with an accessible walking pathway so the individuals at the site could enjoy the peaceful surroundings including bird watching and many other animals that inhabit the woods behind the property. In December 2021, Blossom Hill hosted a "virtual groundbreaking ceremony" to commence the building and development of the Greenhouse and Activity Center.
Read about the unveiling on Cleveland.com.
About Good Shepherd Foundation
The Good Shepherd Foundation of Ohio is based in Columbus, Ohio, but funds projects across the state. The Foundation evolved from the former Friends of Good Shepherd Manor, which was a foundation set up to support the Good Shepherd Manor ICF based in southern Ohio. In 2018, the Foundation officially transformed from a public charity to a private foundation that currently funds nonprofit residential organizations that provide learning and enrichment opportunities to individuals of group homes and ICF facilities.
About Blossom Hill, Inc.
Founded in 1968, Blossom Hill is a nonprofit organization that that owns and operates family-style group homes for adults with profound intellectual and physical disabilities living in the Greater Cleveland Area. Our homes provide a loving environment and personalized 24-hour care for our individuals, short-term respite care for families that need temporary care for their love ones, and supported living care options. For more information, visit our website at blossom-hill.org.
###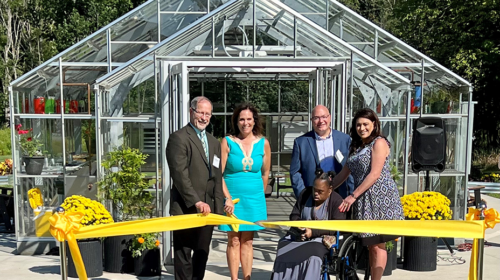 Greenhouse ribbon-cutting ceremony August 31, 2023